Our Mission – The Ninety-Nines is the international organization of women pilots that promotes the advancement of aviation through education, scholarships, and mutual support while honoring our unique history and sharing our passion for flight.
The 99s are composed of a group of unique women – the famous and all of us who aren't, who love the delight of being able to fly. The 99s are pilots who teach, pilots who fly for pleasure, and pilots who are technicians & mechanics. But first and foremost the 99s are women who love to fly and are dedicated to aviation.
The SLO99s chapter is part of the South-West section and was initiated in 1969.
Caution! Moderate to severe clear air turbulence, due to wagging tongues; San Luis Obispo women pilots are organizing!

Wanda Strasburg in 1969.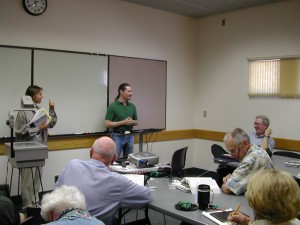 October 1, 1969 date is the official Charter date for the San Luis Obispo County Ninety-Nines with 16 members. A formal chartering ceremony was held on January 17, 1970 at the Madonna Inn with a total of 20 ladies officially sworn in as charter members.
Meetings were originally held on the second Wednesday of every month as luncheons at members homes, restaurants, or fly-outs to various locations; today we are holding meetings at the Spirit of San Luis Restaurant at San Luis Obispo Airport on the first Wednesday of the month. In 1980, the SLO Chapter hosted the Fall Section Meeting at Madonna Inn.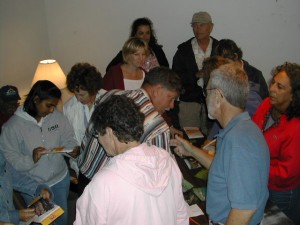 Numerous ladies went on to be airline pilots, among them being Patti Molina Gomez, Suzanne Skeeters, Tracey Leonard, Ester Grupenhagen, Jan Dungan; two ladies flew in the National Air Guard Reserves – Summer Fields and Shelley Funk; Peggy Myrick in the Civil Air Patrol; others in SLO Sheriff's Posse, Search and Rescue, Sheriffs Aero Squadron.
Numerous ladies were involved in the government: Carol Hallett – California Assemblywoman; Shirley Moore – Atascadero City Planning Commissioner; Wanda Strasburg FAA Designee; June Cunningham – Morro Bay City Planning; also ladies with airport committees – Not to mention ladies with diverse careers as doctors, psychologists, nurses, commercial artist, school teacher; restaurateur, FBO owners, engineers etc.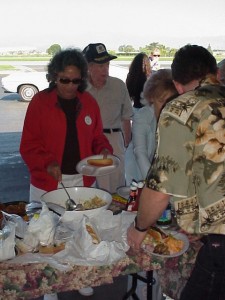 The SLO Chapter has offered several scholarships in the past: Wil Neubert Scholarship; Wanda Ewing Scholarship; Nancy Eckrote Memorial Scholarship – all helped to fund the Flying Start Grant and the current Future Woman Pilot scholarship.
Members hold various licenses: Private; Commercial; Flight Instructor, Instrument Instructor, Commercial Instructor, Licensed Local Weather Observer; Commercial Agricultural Pilot; Charter Pilot, CFI, CFII.
The Chapter has hosted many fundraisers over the years: booths at airport days, SLO Derby Air Race, banquets featuring guest speakers; hot dog booths; ice cream carts; airplane wash; airplane rides at Good Neighbor Day and Airport Day and has also held a media day. The Chapter is very involved with air-marking the county airports, education, Direct Relief Flights; Flying Companion Seminar sponsors FAA safety seminars. Also serves yearly "cookies to the tower", fire station, FBOs, during Christmas.
Some of our current activities include the Discovery Flight Program, SLO Photo Rally, Monthly Flyouts, and Fundraising activities to support our Discovery Flight Program and our yearly Scholarship.